The biggest fitness event in Portugal is back.
This is your chance to join thousands of group class fans for a unique training experience led by the best instructors. With incredible music, lights, energy, and the debut of the latest choreography and moves, LES MILLS LIVE is set to fill Portugal Fit in Santarém.
Find out more below about the classes that will be taking place at the event and in which you can take part all day.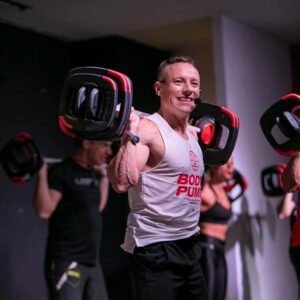 Justin Riley
Justin Riley plays a key role in the Les Mills UK team of trainers. He is a trainer and presenter for BODYCOMBAT, BODYPUMP, CORE and BODYATTACK.
Justin's experience has led him to take on a presenting role at Les Mills Live events, giving classes to thousands of fitness fans in various countries such as Russia, Cyprus, and Switzerland.
Justin has been invited to Italy, Spain, and Greece to present the practical and educational aspects of CORE, BODYCOMBAT and ADVANCED TRAINING to other trainers, as part of the Les Mills "Tribal Gathering", where trainers from all over the world meet to train and perfect themselves to better understand and teach their classes.
He has also taken part as a presenter in several instructor training masterclasses filmed in New Zealand and Amsterdam. Justin is also a specialist for the BODYPUMP programme in the UK, while also working for Les Mills International as an educational content specialist.
Until 30 April:
Day ticket – 35 €
2-day pass – 60 €
Until 15 October:
Daily ticket – 37,5 €
2-day pass – 65 €
Until 24 November:
Daily ticket – 40 €
2-day pass – 70 €
Day price:
Day ticket – 42,5 €
2-day pass – 75 €